Building a barn is a fun way to live a country lifestyle while keeping your horse happy. The cost of a good barn is always of concern hence the need for preparation. I am a horse lover and interested in different ranges of barns. For this reason, I have extensively searched the widest variety of barns with the hope of sharing this knowledge.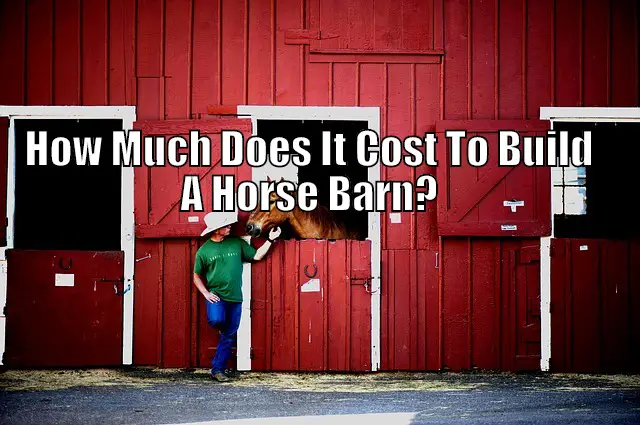 So how much does it cost to build a horse barn? According to experienced Wick Builders, a barn costs between $ 5,000 and $10,000 depending on the size. Some of the biggest barns holding up to 8 stalls can cost well above $40,000 depending on the quality of material and expertise used.
Bigger Can Be Better
Large-well finished pole barns are more expensive because they include some additional useful features. Every horse owner wants the best for their horses so they will seek to improve the structure at some point. Horse lovers always improve their barns as they learn the needs of their horses over time. The do-it-yourself pole barns are important because they are cheap and save on material. Most DIY renovations cost between $2,000 and $3,000 to maintain.
This cost is estimated on every stall and is approximated annually. The true cost of a barn is progressive regardless of the size or type of material used. Another major issue of concern is your location because it determines the cost the material and labor invested in the building. These are prices for basic structures with wood and hay loft.
The pre-fabricated kits you get from the store will not include concrete for your foundation and other necessities such as nails, roofing, shipping, and labor. The final cost will depend on the size of the hired crew, the size of the intended barn, the materials.
If you hire a reputable and experienced contractor, you will get a durable barn but at high cost, which is worth it (considering the longevity, safety of your horse, and minimal repair costs in future).
Whether you are crazy about horses, an experienced equestrian, or a novice, you will want to know the cost of the best barn for a horse. Developing the best barn begins with an understanding of the issues, which determine the cost, the most important things to include, and items to give you want you need. Keeping the cost of horse barn into perspective, as it will help you avoid rushing into unnecessary costs, which could be regrettable. Here are few things to consider:
Functionality
Building codes and rules of zoning
The property
Size and number of horses
The features you need
Auxiliary regions
Safety
Long term issues
Extra fees
Functionality
The purpose of your horse barn plays the main role in determining everything else. if you want a large arena for training you have a lot to consider and need help with experienced equestrians. Smaller barns are easier to install but depend on the whether all you need is a house. Consider the season changes and the usage of the barn. Experts recommend that you should consider the long-term functionalities of the barn to make the best informative decision. Consider all needs you may meet through time.
Building Codes and Restrictions
Before drawing up the final plans for your barn, there are laws to consider. Explore all the building codes, Home Owner's Associations restrictions, city zoning rules (or your local county) as regards to your horse barn. If you are new to horses and maintenance, begin by finding out the restrictions in your neighborhood so you will not be walking into legal trouble. Regardless of the size of your property, the city, county, and neighborhood rules apply. For example, you may not build structures exceeding a stipulated height. Your location is therefore an important player in the cost of your barn.
Neighborhood homeowner's association
Municipal planning commission
Municipal building inspector (permit, guidelines)
The Property
Survey your property to determine the appropriate place to put the barn. For example, consider the water run-off capabilities of the land gradient so you will not soak the horse's home. The location also determines airflow and exposure to extreme weather and snowfall. The location of the barn in your property determines the cost of other utilities such as electricity and water line infrastructure. The cost rises with distance and supply source. For example, if you are burying the electrical wire, you may need between $15 and 20 for every foot going 200 feet away for an additional total of $3,000.
Number of Horses and Size
This should be a long-term consideration because the size of the barn should accommodate new comers. The size of the horse also calls for considerations on the stall size and this depends on the breed. Bigger horses require more space. The number of horses in future should be put to consideration too before you start to build.
Features
Some features are easily ignorable yet they play a crucial role in overall comfort and convenience of your equine companion. Special features include but not limited to;
Overhangs, soffits
Condensation barriers, insulation
doors
Related Questions
Can I do it all by Myself?
Expert help is important but if you have all the information you need, you can do it yourself. Most states can be very strict on blue prints so you can usually buy blue prints from a third party. So you tell them what you want and they will design it up. In some states agriculture buildings are much easier to build with less restrictions and permits. Check your local laws.
How much space do I need to install a barn?
The space depends on the size of the barn, which in turn depends on many issues and laws. For the actual stalls 10X10′ should be fine for most all horses. So start with that and how many stalls you want plus maybe like tack room and wash stall, etc.
Conclusion
Building a barn for your equine companions is not something you want to rush into before making important considerations. There are rules that define your limits, size, and cost of the barn. This means you are not free to do whatever you would want with your horses' home. Make it too last and your horses will love it their entire lives.