I bet you have never tried this! The first thing you think before you go for a ride is a saddle. It is the traditional setup of horse riding since the sport was discovered but you can have more adventure on a bareback.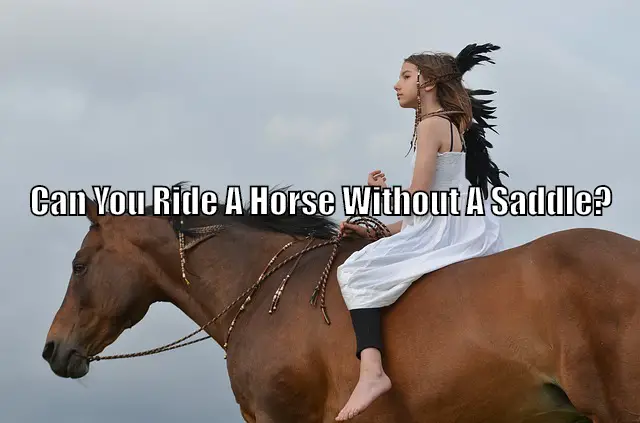 So can you ride a horse without a saddle? Absolutely! In fact, you should try it soon. I know you are thinking the feeling is weird. Yes, you will feel the horse's muscles and bones as they move every inch but this is how you sharpen your balance and strength as crucial skills of a rider.
The first time I was on a horse, it was weird. I must confess. It is not as easy as when on a saddle. On bareback, you have to balance your concentration between the movement between your thighs as the horse sprints and the controls on your hand. It is a tickling feeling, especially when the horse speeds up.
It is not only for kids!
You probably rode on bareback as a kid and such memories can never fade. You can do it as an adult too to rekindle the memories. It is more fun than on a saddle because you have to find balance every time. You will be thrown off the back several times on your first riding on bareback. You might be surprised that the best riders today started on a bareback.
If you master the art of balancing on high speed while on bareback. The saddle standard for racing competitions will be much easier than you think. It is about setting the mind on the hand controls and the eye on the ground. The balance will be automatic and you will ultimately like it.
Bareback Versus Saddle
You will be blown away by what you missed in childhood. Actually, you don't know the fun in riding if you have never been on a bareback. Ask the experts!
You will experience the sliding and slipping for several times but don't be frustrated, it is the starting point for everyone. Of course, you should try it alone at home because it can be embarrassing. No one falls from a horse back. But the frustration won't last for long, before you know it, you will be a master and traversing all kind of terrains. I know you are imagining how it feels saddles out in the wild with uneven terrain. The fun on a bareback is incomparable.
Saddles feel safe and modern. You won't feel the swing of the horse and bumpy terrains as much. Also, there is no risk of swinging or sliding to one side. There are different types of saddles; some are of made of leather while some are artificial. Different riders have different preferences. It is important try both and find out what works for you. Nevertheless, bareback rates high; it is considered for professionals. Also, it is an ancient way of riding hence more adventurous. It connects you with the old ways of horse riding.
How Should I keep safe on bareback?
While everyone should try bareback horse riding, not every horse is convenient for this type of riding. Find out for the experts if you can do it on your horse. Horse breeds differ in body structure and the back of your horse might not be suitable without a saddle. You might be trading the fun. Unless sliding and falling is your definition of fun in horse riding, you might want to consult and borrow a horse for this technique.
Also, the first time you decide to horse ride should be in an enclosed area. Find a round pen or arena for your first try. Carry a helmet for safety purposes. There is a high likelihood that you will fall off the back several times, you never know what you will hit when you land.
A bareback pad is also crucial. It gives you extra support on the sides as the horse skips in the yard. Your comfortability on the back is also dependent on your controls. If you are a beginner in horse riding even with the controls, you should go with a professional for extra caution. Be sure to grab mane while you ride to avoid gripping your legs on the house or jabbing it in the mouth when the ride gets rigorous.
What's the secret to bareback riding?
It is all about balance. Sit in the same way you do on a saddle, upright. There will be a temptation to lean forward or find a comfortable position where you feel secure. However, before the horse moves, you should be upright. Be relaxed. Avoid gripping the horse with your legs and allow your body to flow with the horse's motion.
Summary
It is not simple as you might see it on TV or read about. Also, it is not impossible. It is about putting in the time and focus on balance and you will soon be a pro on bareback riding. You will certainly not get it right on the first day but don't be disappointed. Don't give up. It takes practice. Am sure it took you a while before you were confident on horse's back, you can do it.
But don't let these moments pass you by. Sometimes putting a saddle and saddle blanket on a horse can be cumbersome. So just throw the reins on and hop on. Just be very careful not to get hurt. Don't practice around a rocky area. Sometimes the best time to practice is honestly in the snow that way the horse can't take off as quick and your falls won't hurt as much. If you get bucked off or slip off and not hurt make sure you get right back on.
Send us your picks of you on a horse bareback or submit to our instagram or facebook page to be featured on their. We love our readers to be involved with our writing. Horses are amazing loving creatures treat them with respect and they will respect you back.